I like to pontificate on music. So with the opportunity to write blogs, I get to do just that. Hope you enjoy my musical musings…


My first victim, cough, I mean artist up for review is The Civil Wars. Now, it's possible that you fall into one of two categories here. There are the ones who are reading this going, "Shelby, seriously? I have had this album on repeat for months and I know everything there is to know." Then there are those who are saying, "The Civil Wars? What a creepy bloody depressing band name…" Either way, this duo might floor you with their slick sweet harmonies in a way you haven't heard since Bill Medley and Jennifer Warnes sang "I've had the time of my life" for the cult classic film, "Dirty Dancing". Come on! You know you love that song.


Moving right along…


A little background on this group would be interesting. The duo is comprised of Joy Williams-Yetton and John Paul White. The two met at a writing session here in good ole Nashville. If any of you may think her name sounds vaguely familiar, it's because you remember her famed Contemporary Christian Music (CCM) career as a young, unmarried teenager who sang serious power ballads. Total pop candy Christian music. And we licked it up like a ice cream cone melting in the August Texas sun. Then for years, I was like, "Where is Joy???" And one fateful day, she turned up at my hair salon in Nashville (um, true story) and told me she loved my engagement ring. I died. It was awesome. Wait, I think I'm writing a music review. I'll blog about my celebrity run-ins later.


So when I first heard The Civil Wars, I thought, "there's no way that's Joy Williams!" But it is and she's better than ever and I so don't miss the power ballads (even though Heart is one of my favorites of all time…) Do you know why?? Because Joy and John Paul have mastered the art of subtlety in this debut full length album. It will put you in a happy place where sad songs aren't depressing, they are exposing. Take their single, "Poison and Wine" where lines like, "I don't love you, but I always will" express exactly what conflict we feel in most real relationships, namely denial and secrets. The song plays the roles of a man and woman singing vulnerable words that they would never say to each other's face but only confess in their hearts. It showcases the fear we so easily feel when we realize we love someone. Another song that masterfully weaves unspoken emotion is "Falling" where Joy sings of love that falls away saying, "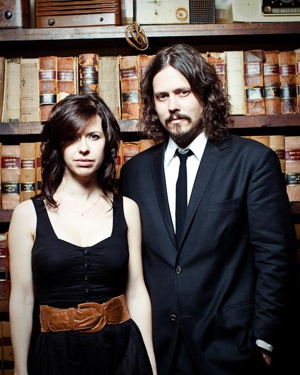 Please, please tell me you know, I've got to let you go, I can't help falling out of love with you." Pretty sad, right? But what makes it so riveting is that they hauntingly express the forbidden horrible things we sometimes all think or feel at some point but NEVER EVER say out loud! I love this. They call in on the carpet and say it like it is no matter the cost.


But it's not just the lyrics that captivate. Maybe more so is the musicality and style they are oozing with. Seriously, so many singers out there are not artists. But The Civil Wars know who they are and confidently, but not arrogantly share it. One prime example is the title track, "Barton Hollow" which picks up the pace and reminds you of something from that totally bizarre George Clooney movie, "O Brother, Where Art Thou" except there is nothing in this song that makes you say to yourself, "is this song for real or are they kidding…?" The song has such a strong hollow body guitar riff you just want to get up and dance around and pretend you are from the swamps of Louisiana….for just a minute though. Then you realize, that's no way to live. But that brings up another point….their songs transport me. Good songs do that. They don't move you for the sake of moving, but move you TO somewhere you've never been but feels incredibly familiar. This album does that beautifully.


Have you noticed yet that I haven't even told you what their music sounds like? I wonder if you already know…ok ok I'll say it. Singer-songwriter, bohemian, pop, harmonic, road trip, haunting, patsy cline-ish country, awesomeness. Don't mind me while I create genres out of my inability to pare down words. Anyway, the group is diverse while being completely true to who they are. I can't gush enough about their instinctive provocative harmonies. They weave in and out of each other's melodies like your windows screen saver, never hogging the spotlight, but always singing in ways that attempt to showcase the other. As a harmony snob, I also am obsessed with how surprising their harmonies are. Right when you think you know where they are going, they fool you and go somewhere else with their notes and you think, "Well played Civil Wars, well played." Prime example? "Birds of a Feather"…I mean I can't even explain it. You have to just go listen. I won't even talk about their cover of the Jackson 5's "I Want You Back". I just can't.


So I'm a fan. Go become one too. And please share your thoughts!